UU@UN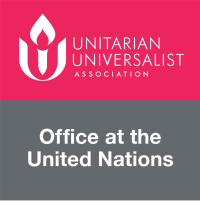 Unitarian Universalists are bold leaders in action for social justice around the world. Each day at the United Nations, Unitarian Universalists strive to affirm and promote the inherent worth and dignity of every person through work with UU@UN, formerly known as UU-UNO (Unitarian Universalist Association Office at the United Nations). The UU@UN's advocacy at the UN is guided by statements and resolutions adopted by the Unitarian Universalist Association (UUA) at UUA General Assemblies and Canadian Unitarian Council National conferences.
UUCSR sends delegates to the UU@UN. On the heels of the 50th Anniversary of Earth Day and the 75th year of the existence of the United Nations, there appears to be overwhelming support for international cooperation toward climate Justice. UUCSR member Janet Bendowitz reminds us that this is ever-more essential in an atmosphere of increasing nationalism and political polarization. UU@UN envoys continue to keep UUCSR abreast of developments at the annual celebration of UN Sunday.
Janet Bendowitz wrote, "I have the honor of being the envoy to the UU@UN for UUCSR. (A role that was suggested by U.S. Ambassador to the U.N., Adlai Stevenson back in 1962!) I believe it is important to have a strong presence at the United Nations to help shift global policy towards peace, justice, and liberation for all. In this position, I have seen the impact of the UU@UN as we provide accurate information on critical global issues such as Human Rights, Migration issues, Freedom of Religion, the Commission on the Status of Women, and not last but of particular impact right now, Climate Justice and Food Sustainability.
"I know that Climate Justice and Food Sustainability is a subject that is of vital interest to UUs. What follows are a few resources to help you navigate this issue." Click to learn more:
Some readings for UUs:
Animal, Vegetable, Miracle, by Barbara Kingsolver
For the youth, some books to share:
A Day with Yayah, by Nicola Campbell
One Plastic Bag, by Miranda Paul
We are the Water Protectors, by Carole Lingstrom
Together, we will protect the beautiful planet that we share!