Stories From the Rock
Storytelling 2022. True Tales Told Live!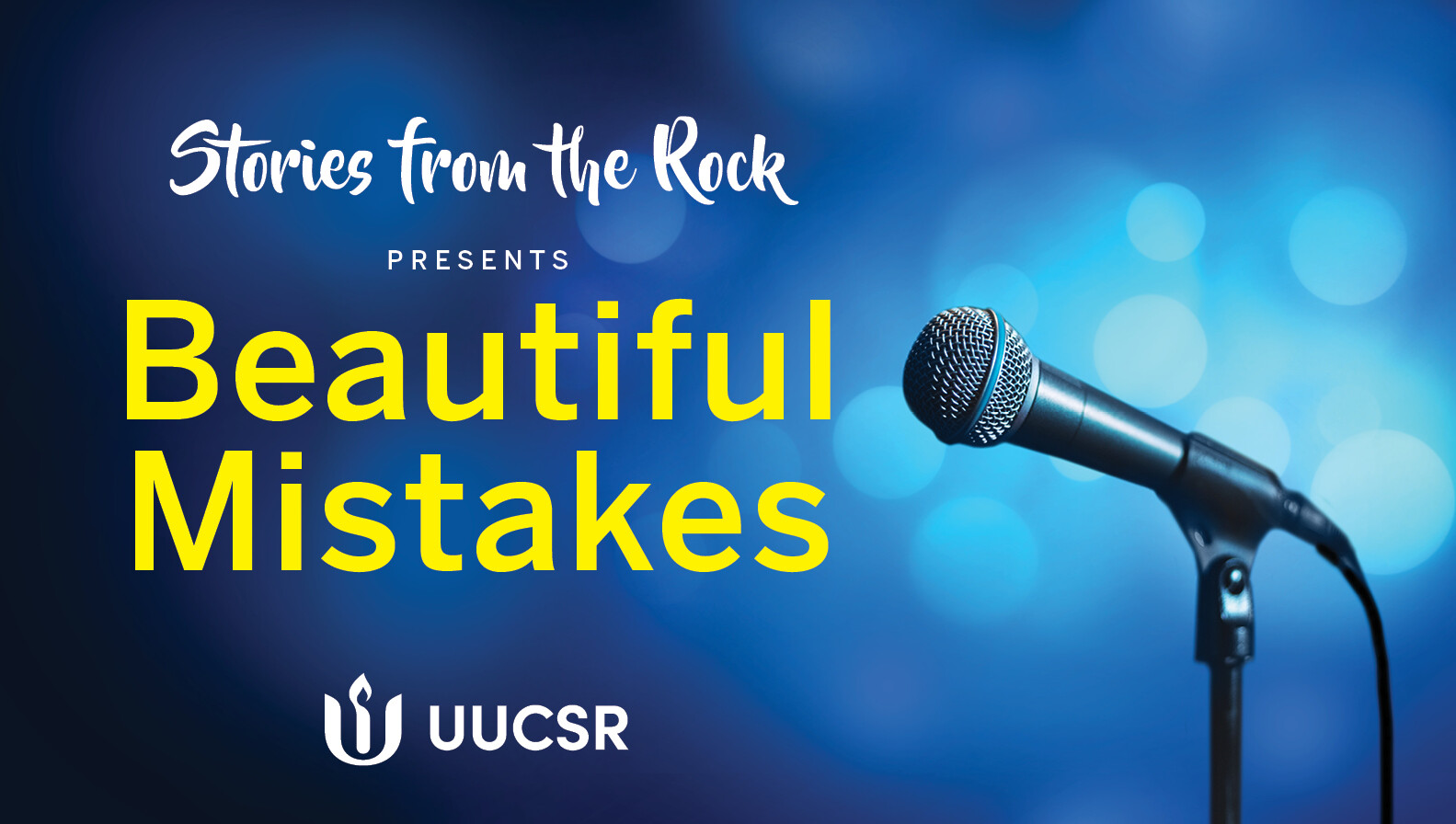 Have you ever made a beautiful mistake? And lived to tell the tale? Our storytellers have! Did you ever plan a break-up vacation with your soon-to-be ex-boyfriend? Or give your teacher a wildly inappropriate gift, hoping it would lead to happily-ever-after? No? Well, our six professional storytellers have some beautiful mistakes to share. Now You're Talking's award-winning headliner Tracey Segarra partners with Stories from the Rock to bring you six storytellers to share hilarious, horrible, heartbreaking, and heart-warming stories.
You will be treated to an incredible lineup of professional storytellers who will blow you away with their compelling and true-tales of mistakes gone beautifully astray.

The congregation is excited to bring the community together to listen to and share stories in a warm and inviting setting. So come and bring a crowd, but you must register here for the show HERE./p>

Elna Baker - Elna is a writer, a comedic storyteller and a producer on This American Life. She has been featured on The Moth Radio Hour, Prairie Home Companion, WTF with Marc Maron. She has also appeared on HBO's High Maintenance and Steven Soderbergh's Let Them All Talk.

Micaela Blei, PhD - Micaela is a storyteller, educator and editor based in Portland, Maine. She's a two-time Moth GrandSLAM winner, and storytelling coach. She's the former (founding) Director of Education at The Moth and currently a visiting professor at Salt Institute.

Kim Kirkley - Kim, of OurElegantCeremony. com is a nationally-acclaimed officiant/Life- Cycle Celebrant, TEDx Speaker, and soon to be mental health therapist. Kim lives in Brooklyn with her two children and aspires to embody the motto "Spread love, it's the Brooklyn way!"

Tim Lopez - Tim is a storyteller, an improviser and a teaching artist based in New York City. His stories have been featured on the Moth Radio Hour, WNYC in New York, KCRW in Los Angeles and CBS Radio nationwide.

Peter Laughter - Peter is an inspirer, a storyteller and an empath. In the 70's, Peter Laughter tried to avoid being noticed. He wore plaid shirts and cowboy boots in the 80s. He still wears plaid, loves being noticed, but the cowboy boots hurt his feet.
With special musical guest, Loughlin Reid-Cleary playing jazz guitar

Tracey Segarra - Tracey is the founder of Long Island's acclaimed live storytelling show, "Now You're Talking" and the host of tonight's show. She is also a NYC producer/ host for The Story Collider. Her stories have appeared on The Moth Radio Hour, the Story Collider and Risk! Podcasts.
Unitarian Universalist Congregation at Shelter Rock
48 Shelter Rock Road Manhasset, NY 11030
Questions? Contact or 516.472.2980.