Why Teaching Diversity, Equity, and Inclusion in Our Schools is So Important
WHAT IS DIVERSITY, EQUITY, AND INCLUSION?
Diversity, Equity, and Inclusion (DEI) is a phrase that has become increasingly popular as our country works to become better for all who live here. This includes people who have been overlooked, under-resourced, and marginalized throughout history. By promoting DEI, we can work to improve the lives of these individuals and provide them with the necessary tools to thrive. So, what exactly do diversity, equity, and inclusion mean?
Diversity - Diversity is the presence of things that are different from one another. This is expressed in many different ways, including through different races, ethnicities, languages, religions, ages, disabilities, sexual orientations, genders, gender identities, socioeconomic statuses, and more. Individuals with diverse backgrounds or who have disabilities have largely been underrepresented throughout history and our country is now working to change that.
Equity - Equity involves trying to understand and give each person what they need in order for them to achieve an equal footing in life. This often involves providing resources and services that they have not had access to previously. Equity is similar to equality, but equality only works if everyone starts at the same place, which is not always the case. Equity focuses on helping people obtain what they need in order to get to a place where equality is possible. For example, for individuals with disabilities, equity would be helping them with things like specialized care, access to free medication, and assisted experiences so that they can do and see things that others can on their own.
Inclusion - Inclusion focuses on involving everyone and making sure no one is excluded for reasons like their race, religion, gender, sexual orientation, any disability they may have, or anything else that makes them different. It also is not simply about including diverse groups but making sure they feel welcomed and able to participate in decision-making, development opportunities, and other activities.
DEI is especially prevalent with younger generations who are shaping the future of the country. By celebrating diversity, promoting equity, and creating an inclusive society we can improve the lives of the millions of people who have been overlooked for too long. Everyone benefits when people have the opportunity to live full, meaningful, and enjoyable lives.
Two of the current seven Unitarian Universalist Principles are a belief in the inherent worth and dignity of every person, and free and responsible search for truth and meaning. There is also a movement within the UU faith to incorporate an 8th Principle that would be a call to action to dismantle racism and other oppressions in ourselves and our congregations. The Unitarian Universalist Congregation at Shelter Rock in Manhasset has unanimously endorsed the 8th Principle.
The teaching of subjects through the lenses of Diversity, Equity and Inclusion has been endorsed by the New York State Education Dept. The aim of DEI, as our panelist Dr. Dan Holzman says, is to educate students to know where our society has been, where we are and where we're going, and to prepare them to be global citizens in a diverse world.
--Jim Smith, member, UU Congregation at Shelter Rock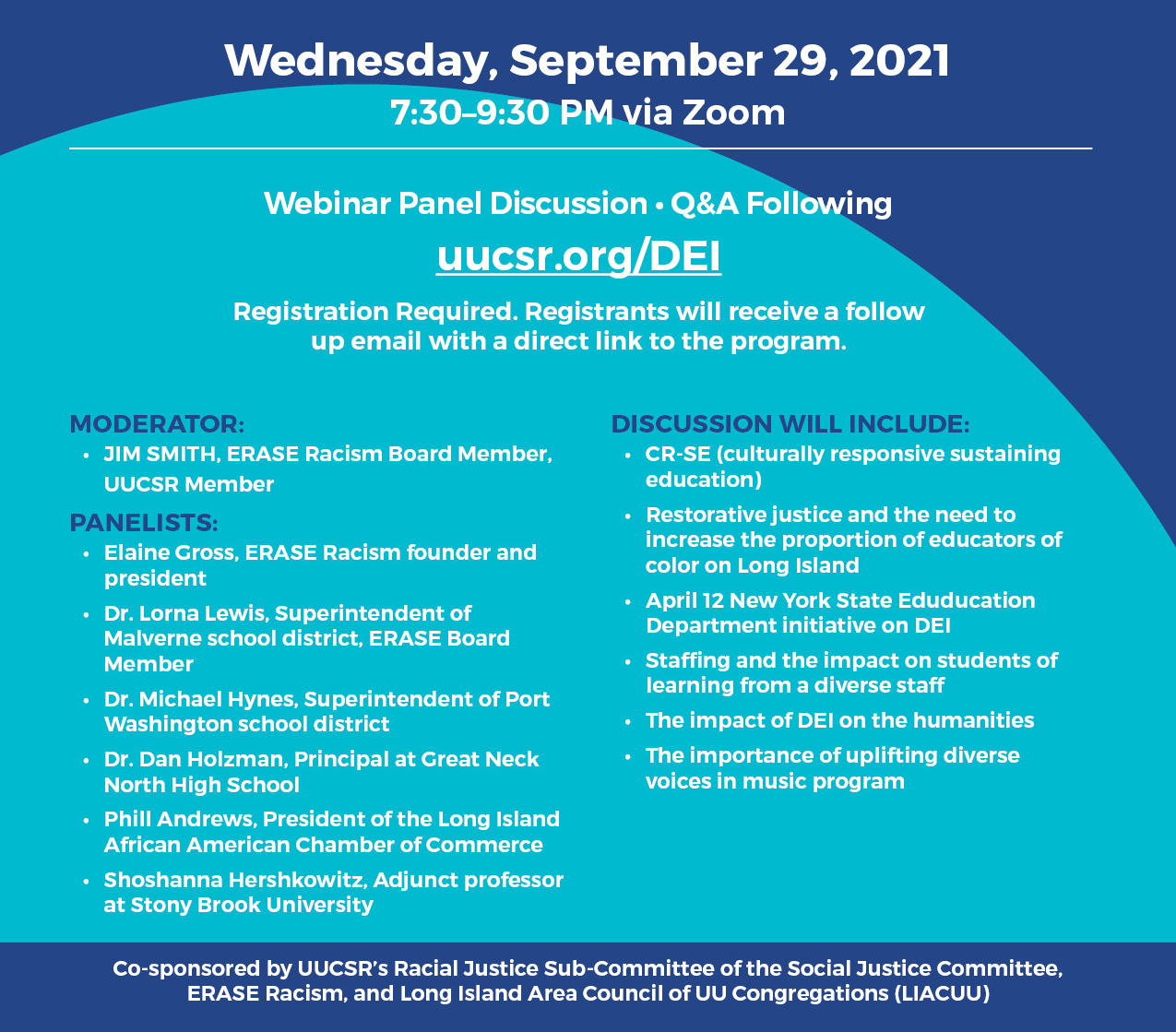 Registrants will receive a follow up email with the link for the program.
Moderator:
Jim Smith, ERASE Racism Board Member, UUCSR Member
Panelists:
Elaine Gross, ERASE Racism founder and president
Dr. Lorna Lewis, Superintendent of Malverne school district, ERASE Board Member
Dr. Michael Hynes, Superintendent of Port Washington school district
Dr. Dan Holtzman, Principal at Great Neck North High School
Phill Andrews, President of the Long Island African American Chamber of Commerce
Shoshanna Hershkowitz, Adjunct professor at Stony Brook University
Discussion will include:
CR-SE (culturally responsive sustaining education)
Restorative justice and the need to increase the proportion of educators of color on Long Island
April 12 New York State Education Department initiative on DEI
Staffing and the impact on students of learning from a diverse staff
The impact of DEI on the humanities
The importance of uplifting diverse voices in music program
Co-sponsored by UUCSR's Racial Justice Sub-Committee of the Social Justice Committee,
ERASE Racism, and Long Island Area Council of UU Congregations (LIACUU)
Media Sponsor: UUCSR