Socially Responsible Investments
The mission of the Socially Responsible Investment Subcommittee at the Unitarian Universalist Congregation at Shelter Rock (UUCSR) is to encourage the investment of the financial resources of the Congregation in alignment with our Unitarian Universalist principles and values.
There are two ways that UUCSR is involved in Socially Responsible Investing: Investments and Loans. The first way is with investments made by fund managers. Our congregational portfolio is invested in several socially responsible funds and stocks. We use our faith and denominational guidance to select investments and vote our proxies.
The second way is to provide low interest loans to organizations that work in communities and within initiatives that strive to better the lives of the people in the areas they serve. The Committee manages the Congregation's Socially Responsible Loan Program, which is designed to assist underserved communities, enhance employment opportunities, support women entrepreneurs, encourage rural prosperity and credit for underbanked communities.
INVEST AND SUPPORT
Underserved communities
Employment opportunities
Women's empowerment
Rural prosperity
Credit for underbanked communities burundi mother and child
FUNDED INITIATIVES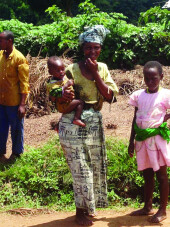 Loans to revive and support underserved communities:
Loans for employment opportunities for re-training and return to the workplace
State of the art training equipment
Local and organic market support
Provide capital for co-op ownership
Loans for women's empowerment
Technical, financial, and professional development
Entreprenurial support
After-school programs
Educational opportunities
Affordable and accessible childcare
Retraining for workplace re-entry
Loans for rural prosperity initiatives
Extend support for local farmers in rural America and in the global south
Underwrite microcredit and intermediate loans
Support investments in Fair Trade coffee, cocoa, spices and organic cotton
Underwrite and support organic farming initiatives
Credit for underbanked communities
Alternative credit resources to counter the "$100 billion predatory" loan industry
Financial coaching opportunities for borrowers
FICO score improvement training
Immigration fee support
Organizations supported
Capital Good Fund, Providence RI
Co-Op Fund of New England, Amherst, MA
Latino Credit Union, Durham, NC
Leviticus, Elmsford, NY
Spring Bank, Bronx, New York
Iroquois Valley Farms, LLP, Evanston, IL
PROCESS
After reviewing specific loan proposals and relevant financial and historical data, the SRI Subcommittee may negotiate terms of a low-interest loan or deposit with a 3 to 5 year term. Rates can vary. Loans can be self-amortizing or interest only with payment of the principal at the end of the term. If approved by the SRI Subcommittee, the proposal then requires additional approval of the Investment Committee and the Board of Trustees of the Congregation.
CONTACT US!
We are always looking for impact investment opportunities that augment sustainability and ethical outcomes in underserved communities locally and internationally. If you have a socially responsible initiative that generates some income and would be able to support a low interest loan, please contact our Social Justice Coordinator. We would like to hear from you.
For more information on investing, please contact:
Finance Department
516.627.6536
For more information on funding, please contact:
Social Justice Coordinator
516.472.2977