2021 Write for Rights
"Write4Rights" Online Program
Saturday, December 4, 2021
1:30-3:30 PM via Zoom
Register in advance for this meeting HERE
After registering, you will receive a confirmation email containing information about joining the meeting and writing letters.

WRITE A LETTER, CHANGE A LIFE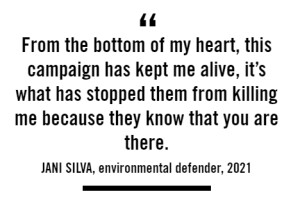 Write For Rights is Amnesty International's largest annual human rights campaign. People like you around the world write letters on behalf of people who need urgent help. People like Nassima (pictured) who has been locked up since 2018 for protesting against the 'male guardianship' system in Saudi Arabia. Through the power of collective action, your letters will help convince government officials to free Nassima and other people unjustly imprisoned or facing abuses.
Each year the UUCSR Social Justice Committee sponsors participation in the Write4Rights Campaign organized by Amnesty International. This year we take the campaign on-line!
To participate, follow these easy steps:
Choose a political prisoner(s) from the list below. Study the individual's case sheet available by clicking on the person's "Case File" link to become familiar with his/her experience. Using the information in the case sheet, write a letter of your own composition. You can also copy the letter provided in your own handwriting, or copy and paste the letter, print it, and sign it. (Access the letter by clicking on the "Sample letter" link below the description.) Address an envelope using the information on the individual's case sheet. For international addresses, add $1.15 in postage or 3 forever stamps. Add your return address to the envelope. You may get a response.
Write a card of support to the individual and family member(s) listed on the case sheet. Sign your name and your country. Address the card using the information on the individual's case sheet and add the appropriate postage. Add your return address. You may get a response from the individual and family members.
Mail your letters by January 31, 2022.
Tell Belarus to release Mikita and give him a fair trial.
Mikita was just 16 when he was arrested after being caught up in crowds leaving a protest in Homel, Belarus. The teenager was held in solitary confinement and has reportedly been tortured. Join his parents and call for his release.
Case Sheet | Sample Letter | Sign the Online Petition

---
Tell Israel to protect Janna from discrimination and violence.
15-year-old Janna Jihad faces death threats and intimidation for her work speaking up for human rights in the Occupied Palestinian Territories. Take action now and demand her protection.
Case Sheet | Sample Letter | Sign the Online Petition

---
Demand justice for Wendy from Mexico's authorities.
Wendy Galarza was shot after attending a protest in Cancún, Mexico. She almost lost her life speaking out for women's rights in her country. Take action now and demand justice.
Case Sheet | Sample Letter | Sign the Online Petition

---
Tell Guatemala to free Bernardo today.
Bernardo Caal Xol is in prison right now for speaking out against the destruction of the river Cahabón in north central Guatemala. Take action and demand his release now.
Case Sheet | Sample Letter | Sign the Online Petition

---
Tell China to free Zhang Zhan immediately.
Zhang Zhan is in prison in China because of her work reporting on the Covid-19 outbreak. Take action now and demand her freedom.
Case Sheet | Sample Letter | Sign the Online Petition



---
Tell Thailand to drop all charges against Rung.
'Rung' is facing life in prison for speaking out for freedom and democracy in Thailand. Take action now and demand her freedom.
Case Sheet | Sample Letter | Sign the Online Petition

---
Tell Nigeria to drop all charges against Imoleayo.
Imoleayo is facing prison for taking part in the #EndSARs movement in Nigeria. Take action now and demand the charges against him be dropped.
Case Sheet | Sample Letter | Sign the Online Petition
---
Tell Ukraine to bring Sphere's attackers to justice.
Anna and Vera run an organization that provides support for LGBTI people in Ukraine. But they and their colleagues have been attacked and abused – and the authorities are not protecting them. Demand protection for LGBTI group in Ukraine.
Case Sheet | Sample Letter | Sign the Online Petition
---
Tell Egypt to release Baker immediately.
After dedicating his life to human rights work in Egypt and representing people whose rights have been taken away, Mohamed Baker has now found himself locked up. Take action now and demand his immediate release.
Case Sheet | Sample Letter | Sign the Online Petition
---
Tell the USA to speak out for Ciham.
Ciham Ali has been missing for over 8 years. When she was just 15 years old, she was taken by the Eritrean authorities while trying to leave the country. She has not been seen since. Help us find Ciham and get her released now.
Case Sheet | Sample Letter | Sign the Online Petition