Congregational Large Grants Program
The Large Grants Program of UUCSR provides support for efforts within the religious and spiritual mission of the congregation where their purposes are best served by outside agencies acting under the Large Grants Program and the Congregation.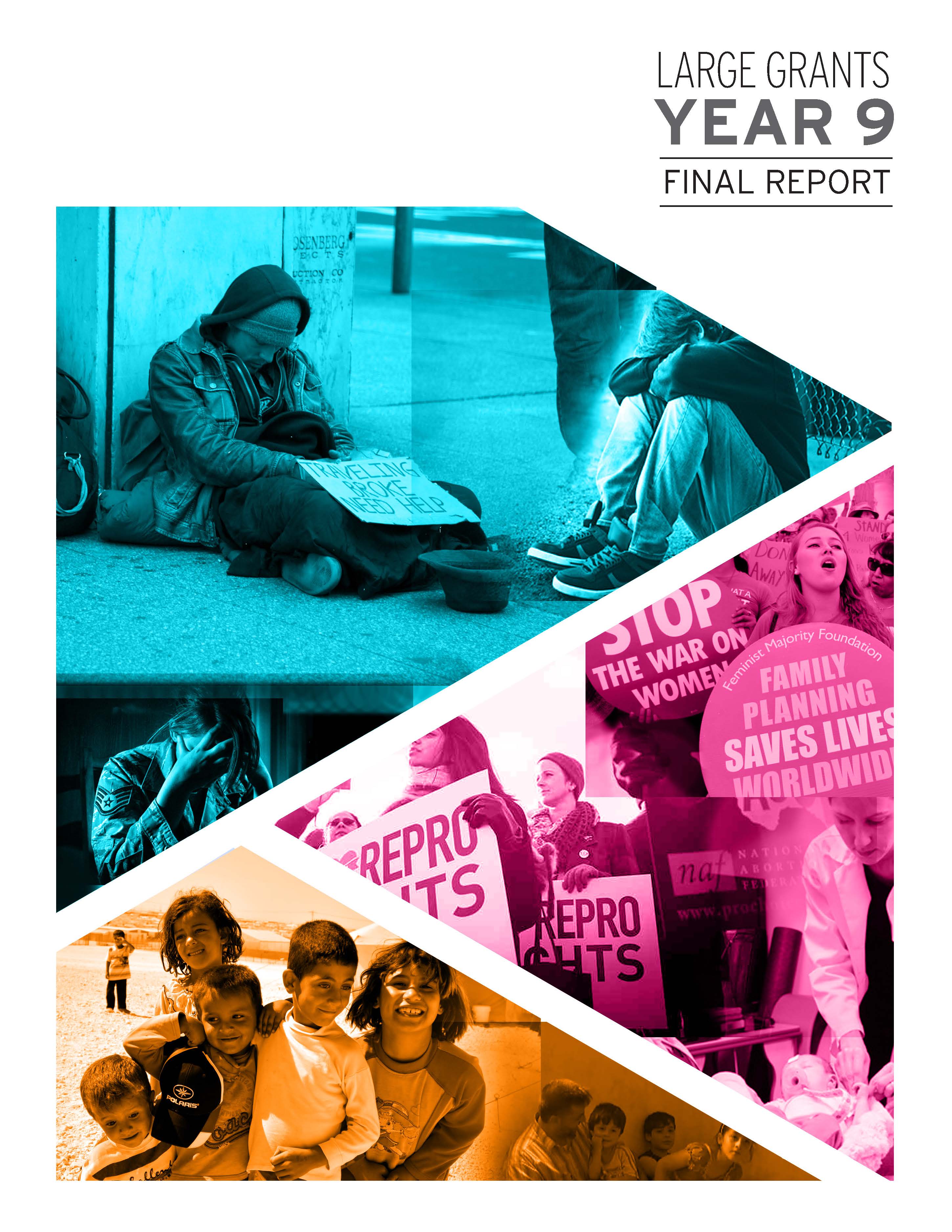 2017-2018 Congregational Year Large Grant Recipients
Syrian American Medical Society Foundation
Unitarian Universalist Service Committee
2016 Large Grants Press Conference
The Unitarian Universalist Congregation at Shelter Rock (UUCSR) maintains a congregational "Large Grants Fund." It was set aside to provide annual interest (plus up to 20 percent of the original set-aside) to be allocated in grants of $100,000 to causes selected by the congregation through a democratic process. Each year, the congregation selects three or four funding areas and one or more specific grantees.
In addition, through the Large Grants Program, the congregation has been able to make grants to organizations working to address crises (unanticipated catastrophic events). In 2009-10, grants were made in response to Hunger on Long Island as well as the Earthquake in Haiti, and in 2012-13, grants were made in response to Superstorm Sandy.
Large Grants, 2014
Selecting Large Grants recipients during the fiscal year July 1, 2013 through June 30, 2014 was accomplished through a decision-making process designed by the Large Grants Advisory Group in consultation with the UU Veatch Program staff and Board of Governors. The amount the Veatch Board of Governors authorized for allocation through the Large Grants Program in Fiscal Year 2014 was $600,000 and the grant amount set at $100,000. Consequently, no more than six organizations can be selected to receive Large Grants.
The process began on Homecoming Sunday, September 15, when two "Large Ideas" sheets were put up in the Social Hall and the RE wing. Members and friends of the Congregation wrote their suggestions for funding areas on post-its and put them on either of the "Large Ideas" walls. Ned Wight and staff of the Large Grants Advisory Group, compiled and organized all suggestions into discrete "funding areas," which were reviewed and approved by the Large Grants Advisory Committee.
Members of the congregation received a list of the possible funding areas. One week later at a congregational meeting, three funding areas were selected: Mental Health, Poverty and Women's Issues. "Request for Proposals" (RFP) for each funding area were proposed and an exhaustive discovery process ensued.
Grants Made in May 2014
On May 4, 2014, the Unitarian Universalist Congregation at Shelter Rock (UUCSR) held a vote to grant the following six nonprofit organizations $100,000 each through UUSCR's Large Grants Program.
MENTAL HEALTH
Family and Children's Association (Mineola, NY): $100,000 to integrate mental health services into programs for homeless youth.
Selfhelp Community Services (NY, NY): $100,000 to provide the Virtual Senior Center to isolated, homebound seniors living in Nassau County.
POVERTY
Gateway Youth Outreach (Elmont, NY): $100,000 to further develop and expand its employment program for financially and behaviorally at-risk youth.
Manhasset/Great Neck Economic Opportunity Council (Manhasset, NY): $100,000 to establish a Career Guidance and Counseling Program for at-risk youth and young adults ages 14-21.
WOMEN'S ISSUES
The Safe Center LI (Bethpage, NY): $100,000 to strengthen the comprehensive programs and services provided to victims of domestic violence, sexual assault and child abuse and neglect, including victim advocacy, mental health services, emergency safe housing, transitional housing, legal services and education to victims and to the community at large.
Turning Point for Women and Families (Flushing, NY): $100,000 to provide culturally and linguistically competent services to Muslim women, girls and children affected by domestic violence and/or sexual abuse through crisis intervention, individual and group counseling, referrals for legal services and job training and assistance in accessing public benefits.
Grants Made in May 2013
In FY13 (July 1, 2012 – June 30, 2013), the congregation made six regular Large Grants and five crisis grants for a total of $1,280,000. Regular grants (totaling $600,000) were made to the following organization or organizations within each funding category:
Funding Category: Criminal Justice & Prison Reform
Subcategory - Solitary Confinement: Urban Justice Center Mental Health Project–$100,000 for a solitary confinement initiative.
Subcategory - Training and Employment for Prisoners: The Horticultural Society of New York–$100,000 for a prisoner training program at Rikers Island in New York City.
Funding Category: Unitarian Universalist Camps & Conference Centers
Star Island Corporation-$100,000 for fire suppression upgrades.
Unirondack-$100,000 for rebuilding a shower house.
Funding Category: Women's Empowerment & Justice
Subcategory - Reproductive Justice: National Women's Law Center–$100,000 for protecting reproductive rights.
Subcategory - Women's Centers in Greater New York– $100,000 for a building renovation.
Additional Crisis Grants totaling $680,000 were made to the following five organizations:
ALIGN: $150,000 for the Alliance for a Just Rebuilding to support a comprehensive organizing campaign involving NY-based grassroots organizations working in poor neighborhoods adversely affected by Superstorm Sandy.
Health and Welfare Council of Long Island: $200,000 for two purposes: $100,000 to fund operations of the Long Island Voluntary Organizations Active in Disasters (LIVOAD) Long Term Recovery Group, and $100,000 to be given out as direct grants by the LIVOAD Unmet Needs Roundtable.
Interfaith Nutrition Network (the INN): $100,000 to purchase bulk perishable and non-perishable food to meet the increased demand for food generated by Superstorm Sandy.
Metro New York District of the UUA: $100,000 to hire a Coordinator of Disaster Response and Volunteer Services to oversee long-term repair and recovery assistance to UU congregations, members and communities most seriously affected by Superstorm Sandy.
Sustainable Long Island: $130,000 to for a five-component collaboration with the City of Long Beach to ensure a robust and equitable economic recovery after Superstorm Sandy for all residents of the city.
Large Grant Recipients 2007-2012:
2007-08: Peace/Anti-war, Housing/Homelessness, and Domestic Unitarian Universalist Projects
2008-09: Civil Liberties, UU Domestic Projects, and UU International Projects
2009-10: Affordable Housing on Long Island, Homelessness on Long Island, Mental Illness, and Women's Empowerment and Justice
2010-11: Campaign Finance Reform, Health-Related Issues, Homelessness and Hunger, and UU Projects
2011-12: Mental Health on Long Island, UU Theological Education, and Women's Empowerment and Justice
2012-13: Criminal Justice & Prison Reform, UU Camps & Conference Centers, and Women's Empowerment & Justice
CLICK HERE FOR A LIST OF ALL LARGE GRANT RECIPIENTS FROM 2007 – 2013.
The congregation maintains relationships with Large Grants recipients throughout the grant period, and encourages congregational engagement and support whenever possible.
Questions about the UUCSR Large Grants Program may be directed to Joan Minieri, Executive Director of the UU Veatch Program and Large Grants Program, at .