Music and Performing Art at Shelter Rock
LIVE broadcasts are streamed with a brief countdown before streaming. Click on the arrow in the middle of the placeholder image. You will automatically receive the broadcast.
Long Island's Return of Messiah Sing!
Sunday, December 11, 2022 | LIVE Onsite and Online
A Beloved Long Island Tradition is BACK!
THE ORCHESTRA AT SHELTER ROCK
Stephen Michael Smith, Conductor
THE UUCSR CHOIR with Professional Soloists
Sarah Moulton Faux, soprano
Michael St. Peter, tenor
Leah Wool, mezzo
Brace Negron, bass baritone
Nathaniel LaNasa, harpsichord
Come sing along or simply listen and enjoy. Musical scores provided at no charge. Ample, free parking | Fully handicapped accessible
Orchestra at Shelter Rock Annual Summer Concert
Return of the Annual Summer Concert
Stephen Michael Smith, Music Director
UNHEARD VOICES: 3 Women Composers for Orchestra
Live Onsite In-Person and Live-Streamed Online
Louise Farrenc, Overture No 1, op 23 Florence Price, Symphony No 1 in E minor Margaret Bonds: Five Spirituals for Voice and Orchestra Anthony McGlaun, soloist Open to everyone - $10 at the door Air conditioned; handicapped accessible; free parking Reception to meet the artists following the concert. Anthony P. McGlaun is noted for his clarity of tone, musicality and expressive delivery of text. He has a BA from Morehouse College and MM from UNI, and has made role debuts with Lyric Opera of Chicago in Porgy and Bess and San Francisco Opera in Showboat. He has also appeared with Spoletto Music Festival and New Orleans Opera. This fall, Mr. McGlaun will appear at the Metropolitan Opera in Porgy and Bess. He is a much sought after soloist, recitalist, and lecturer, specializing in the Negro Spiritual and work of African-American composers of Art Songs. Mr. McGlaun uses these musical opportunities to further the cause of social justice.
See an interview with Mr. McGlaun by Music Director Stephen Michael Smith HERE. Available as podcast HERE.
Friday, April 22, 2022 | 7:30 pm
FREE | All Welcome | Livestreamed on this page
(also on Facebook and YouTube)
The Thing Is, I Love You
Ballads for Voice and Piano, Mostly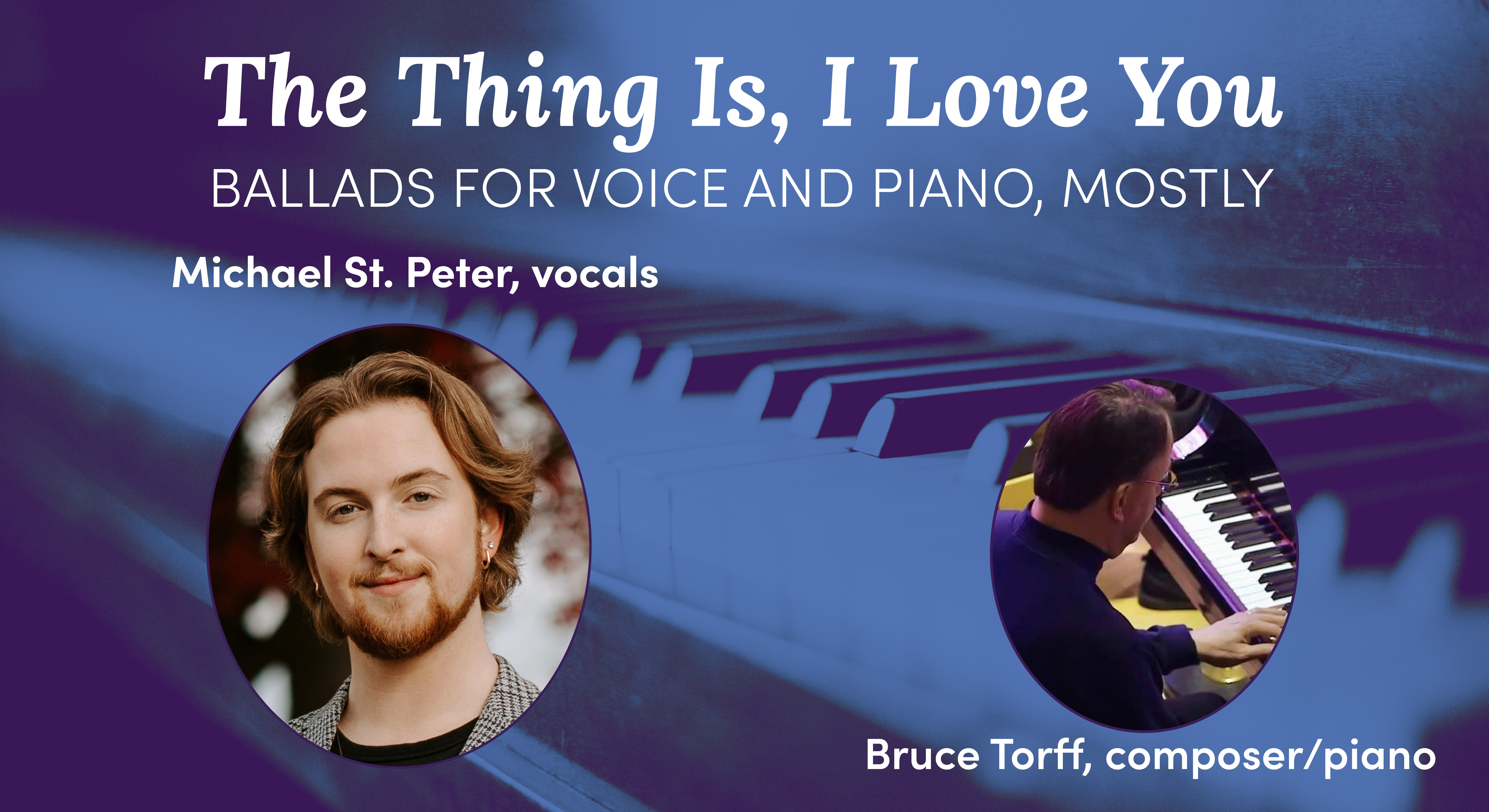 Sunday, December 12, 2021
George Frideric Handel 's Messiah Sing
Featuring the Orchestra at Shelter Rock conducted by Stephen Michael Smith, The UUCSR Choir, and Professional Soloists.
Please watch Handel's Messiah with us and sing along as loudly as you would like. This will be a rebroadcast of the UUCSR 2019 Messiah Sing.
LIVE broadcasts are streamed with a brief countdown before streaming. Prior to the countdown, you may click on the red arrow in the middle of the placeholder image. The words "Live Stream Offline" will display. When streaming begins, you will automatically receive the broadcast.
Also available HERE, uucsr.org/calendar, Facebook and YouTube. Also as podcast at https://www.buzzsprout.com/1190900.
A virtual celebration of the artistic and creative talents of Shelter Rock's children, youth, and young adults. Singing, Dancing, Instrumental Selections, Visual Arts. Host Karin Lyngstad-Hughes. This is an hour you will not forget that will give you hope for the future.
Messiah 2020
As with many things, the Annual Messiah Sing will take a different form and be virtual this year. Messiah 2020 will include clips from past Messiah Sings at Shelter Rock, personal reflections, and stories from behind the scenes from our choir and soloists, and a new virtual performance of the Hallelujah chorus. Join in to celebrate the holidays in this new, COVID-safe way. First aired: Sunday, December 13, 2020 at 2:00 PM.
December 2020 Virtual Exhibit
The Edward Miller Memorial Music Scholarship Fund:
Scholarship information here,
plus CABARET at the Rock!
music programs
Music is an important part of ministry at Shelter Rock! Music helps communicate deep human and Unitarian Universalist values. Shelter Rock is a community where you can look forward to great music.
Chats with Music Director Stephen Michael Smith
The Modern Brass Quintet LIVE on the meadow at Shelter Rock on Sunday, September 13, 2020
A Special Classical - Broadway - Jazz Concert
Thomas Verchot, Trumpet
Jason Bitonti, Trumpet
Debbie Schmidt, French Horn
Roger Verdi, Trombone
Dale Turk, Tuba
The UUCSR Choir with Professional Soloists Sunday, December 8, 2019 Each year the Congregation's 55-voice choir invites the public to join in the performance of selected portions of this cherished masterwork by George Frederic Handel. The entire Part I (Christmas portion) is sung, with selected choruses from Parts II and III rounding out the event.
Leading the performance was conductor Stephen Michael Smith, Music Director of the Unitarian Universalist Congregation at Shelter Rock since 1999, where he conducts the UUCSR Choir and Orchestra at Shelter Rock. He also serves as Conductor and Music Director of the Symphonic Pops Orchestra of Long Island and the Danbury Community Orchestra in Connecticut. His guests conducting credits include the Wroclaw Symphonic Orchestra (Poland), Karlovy Vary Symphony (Czech Republic), St. Petersburg Camerata (Russia), Danbury Symphony Orchestra, New Britain Symphony, Riverside Choral Society, and Schola Cantorum of Harvard University. He has also served as Music Director of the Shrewsbury Chorale and the Dalton Alumni Chorale, having prepared both organizations for their Carnegie Hall debuts. Mr. Smith was selected twice to participate in the opening concerts of the International Northern Baltic Festival at the historic Catherine the Great Theater of the State Hermitage Museum in St. Petersburg, Russia.
Internationally acclaimed soloists Meagan Brus, soprano, Blythe Gaissert Levitt, mezzo-soprano, Michael St. Peter, tenor, and Brace Negron, bass-baritone, were featured in the performance. Christopher Creaghan, Associate Organist for The Riverside Church, was at the facility's mechanical action Jaeckel pipe organ. Mr. Creaghan has performed recitals on many of New York's largest instruments, and is a graduate of the Manhattan School of Music, an active member of the American Guild of Organists, and past Dean of the New York City Chapter AGO. Members of the Orchestra at Shelter Rock, under the direction of concertmistress Jennifer Ahn, accompanied the choral selections at the performance.
Audience members were welcomed to sing along, or just listen. Musical scores provided at no charge
The Choir
Led by Music Director Stephen Michael Smith, the choir is a volunteer group supported by four professional section leaders. The choir rehearses on Thursday evenings (except May and June) and Sunday mornings. The music is chosen to enhance the worship experience and the theme of the service. The Annual Music Sunday Service led by the choir is a highlight of the program and the congregational year.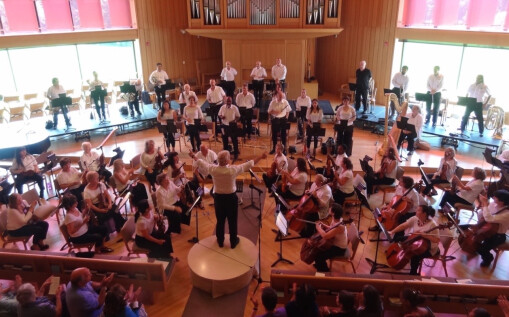 Shelter Rock is the proud host of a traditional orchestra and an Orff orchestra, both of which enjoy enthusiastic followers.
The Orchestra at Shelter Rock
is a full symphony orchestra comprised of talented members of the congregation and the larger Long Island musical community. The Orchestra accompanies the Congregation's annual Messiah Sing and Music Sunday. Recent features have included Carl Orff's Carmina Burana, Arvo Part's Berlinner Messe and Johannes Brahms' Requiem. The Orchestra's Annual Summer Concert is held on the first Sunday in August.
Musicians who play a traditional orchestral instrument and are interested in joining the orchestra should contact Music Director Stephen Michael Smith via EMAIL, or call 516.472.2942.
2017 Annual Summer Orchestra Concert
The UUCSR Jazz Ensemble
is a multi-generational music group open to all instrumentalists of all ages. The group focuses on rehearsing and performing compositions by jazz masters and jazz standards, with emphasis on techniques for playing cohesively as a group and for individual and collective improvisation. Moderate proficiency on your instrument and reading music will be helpful to you -- though you will be supported in this -- and no previous jazz experience is required. Ear training, rhythmic study, sheet music, and listening to exemplary works are some of the strategies employed in the ensemble. The Jazz Ensemble rehearses October to May, on Sundays from 9-10:15am; regular rehearsals align with the RE calendar and four to six performances are scheduled during the Sunday service or immediately following. The Jazz Ensemble is lead by Dan Pratt, a highly respected and active member of the New York jazz community and Lincoln Center Education who has performed in venues ranging from The House of Blues to the White House.
Work Song from Ken Hughes on Vimeo.
Music by Children and Youth
Beginning in the lower grades, the Religious Education (RE) Music Specialist integrates music into the RE program via the Young People's Choir. It meets in the Music Rehearsal Room Sunday most Sunday mornings at 10:00 a.m.
Concerts and Special Events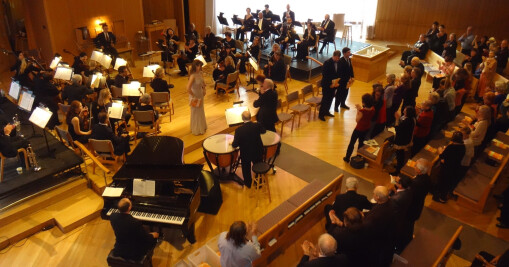 A wide variety of performances are held throughout the year (often on Sunday afternoons). Some are annual events and some are special events.
Video recordings of various concerts can be seen here:
2016 SUMMER ORCHESTRA CONCERT WITH GERALD BUSBY, STEPHEN MICHAEL SMITH, MUSIC DIRECTOR
GROFE' SUNRISE (GRAND CANYON SUITE), THE ORCHESTRA AT SHELTER ROCK, STEPHEN MICHAEL SMITH, CONDUCTOR
BRAHMS – TRAGIC OVERTURE, OP 81, THE ORCHESTRA AT SHELTER ROCK, STEPHEN MICHAEL SMITH, CONDUCTOR
Religious Services
Connect
Lifespan Religious Education
Veatch Program
Social Justice
Music and Art at Shelter Rock
Caring
Green Sanctuary Committee
Men's Group
Remembrance Garden
Small Group Ministry
Women's Group