Men's Group
The mission of the UUCSR Men's Group states:
Men's Group shall create environments for men to come together and share their needs and aspirations with each other, so as to grow personally, emotionally, intellectually, socially, and spiritually. While continuing to evolve and define itself, the Men's Group seeks new and interesting activities and fosters discussion and mutual sharing among members. Monthly meetings are open to all as are occasional retreats and speakers.
2022 Rockin Halloween Party Photos
2022-2023 Innovative Monthly Series!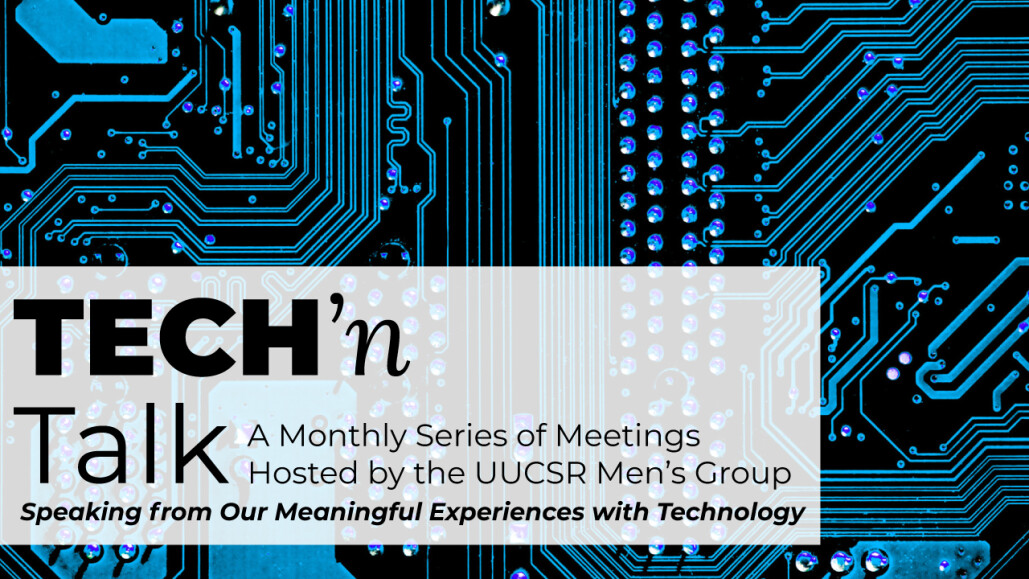 TECH'n Talk | Second Tuesdays* of the Month (September–June) | 7:00 PM | via Zoom
*see dates below for exceptions
Co-Leaders: Herb Klitzner and Gerry Matusiewicz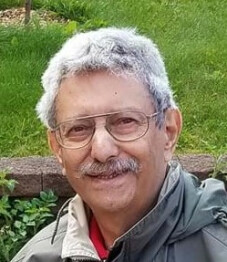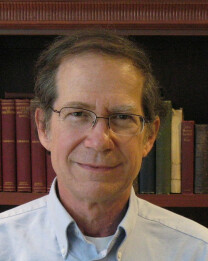 Advisory Group: Doc Neil Tonnesen, Marvin Brown, Claudia Barbey, Herb Waldren, Rev. Jaye Brooks, Bernie FitzGerald
Join Zoom Meeting HERE
or Call in: 1-646-558-8656
Meeting ID: 829 6783 9221
Passcode: 058360
NOVEMBER 1, 2022: Discussion of a Survey of our Congregation's Youth and Young Adults Technology Interests and Attitudes, Led by members Wally Brown and Claudia Barbey
DECEMBER 13, 2022: The James Webb Space Telescope (the physics/cosmology and the spiritual dimensions), Fred Cadieu (presenter). Many astronomical pictures
JANUARY 10, 2023: Artificial Intelligence (AI): Its Many Natures and Its Pros and Cons, Herb Klitzner and Gerry Matusiewicz
FEBRUARY 14, 2023: Space Voyages Past and Future: A Look at the Futurist Proposals for a Mars Mission, "My Experiences Creating a Computer Program to Control the Lunar Lander Astronaut Simulator" Gerry Jalazo interviewed by Gerry Matusiewicz, plus a commentator on the projected Mars missions
MARCH 23, 2023: The Technology World of the UUA, Larry Stritof, UUA Director of Information Technology (IT) Services, Gerry Matusiewicz, Herb Klitzner, Claudia Barbey
APRIL 11, 2023: Literacy, Libraries, and Learning in Burundi, Africa, Participants: H2 Empower Nonprofit Leader and Activist Helen Boxwill, Educator Wally Brown, and Former Librarian Judy Fishkin
MAY 9, 2023: Advanced Technology's Possible Future Uses by Members at UUCSR – Exploration of possible future demonstration projects to imaginatively use AI in the congregation. Example: a personalized "front-end" interface for using a UU History database (www.uudb.org ). Herb Klitzner and Gerry Matusiewicz
JUNE 13, 2023: Music Therapy, Harriet McKenna
Herb Klitzner wrote the following "Reflections on the Tech'N Talk Series and Its Technology Themes"
The thinking underlying the Men's Group's creation of the Tech 'n Talk Series: Speaking from our Meaningful Experiences with Technology is that when people talk directly from their own experience, instead of only from abstraction or ideology, they learn meaningful things about each other, they draw closer and deeper. They have the opportunity to become more trusting and interested in each other. They want to continue and extend their relationships.
These are central principles of the modern public-conversation-holding movement, of which I have been involved in for ten years now as a planner and moderator with Ron Gross and the organization, Conversations New York.
We are helping to build community when we Men's Group members see new aspects of each other in this way and learn from each other. I learned, just in the planning stage, that our speaker on electric cars, Herb Waldren , was a graduate philosophy major in a California university and that my co-leader, Gerry Matusiewicz, is an experienced Zoom host and Toastmaster's trained public at the Rotary Club and the Kiwanis organization.
And we build community when we invite interested people in the larger congregation to plan and participate with us, as we have done on every level from Advisory Group, including Rev. Jaye Brooks and Board member Claudia Barbey, to creative assistance from our staff, especially including Sharyn and Jen, to interested members of the congregation, with varied backgrounds and locations stretching from here to Chicago, where Rick and Nancy Van Dyke now reside, but receive the Quest.
In fact, our newest member of the Men's Group is Fabrice Bukebuke, an off-site member who lives in Rwanda, Africa, one of nine new members of the congregation who took their orientation sessions and Sunday worship services online during the pandemic.
This is an exciting group of people to work together with.
Thoughts on the Nature of Technology One of best perceptions of the nature and effects of our current and all previous leaps in technology comes from a historian of Ancient Rome and Greece who lives in Italy, Aldo Schiavone, age roughly 75. In his short but dramatic book, What is Progress, Schiavone (2021) writes:
The history of technology and the history of self-determination are not the same thing … and do not proceed together. But the first [History] is what gives the second [Self-Determination and Social Control] the possibility of existing. And if in the latter we can trace an arrow … we owe this to the direction of the other. We are looking at two arrows cocked at the same time by twin bows that aim, separately and at different angles, at the same target. [underlining is my own emphasis] (Schiavone, 2021, p. 100)
Schiavone say that degree of advancement determines the maximum that a society can theoretically achieve, in other words it is a ceiling. The more you try to suppress technology, the less your society can aspire to build or fix. For example, see the relationships between shipping and trade, or antibiotics and healing.
But technology in evil or incompetent hands can damage or destroy a civilization. Therefore, applying the power of social control over technology is a necessity. But it is a reaction to technology, and so there is always a lag. Hopefully, it comes before bad consequences become irreversible. In effect, this translates into a probability distribution. Some societies apply the control in time, effectively, and some don't.
This is how a historian pictures the situation. Schiavone has the strong conviction that, today, the degree of a constructive kind of global integration helps the odds – not global political union but the application of process awarenesses and resolutions of need. Buckminster Fuller called this integrity, a characteristic of a system, and Carl Jung called it individuation" (from the word "indivisible").
Future Programs Next Year and Beyond
Individual Men's Group Members' Involvements with Technology Over half of our members have been involved with some form of advanced computer or electronic or medical technology, or related topics, either in personal life or at work:
Herb Klitzner worked on the original World Trade Center pre-construction modeling of foundation-wall stress in the foundation walls, which later survived the destruction of the buildings. He also co-created a computer center for the blind at CUNY. And, as a forecaster, he accurately predicted the tremendous growth of the personal computer market from 1980-1985.
Gerry Matusiewicz designed manufacturing processes for computer chips that were effective and reliable, for IBM at their facilities in Fishkill. He now experiments with the flying of drone devices. One of their capabilities is using them to take pictures remotely of the environment and community, which are sent back to him – not unlike the sending of pictures back from Mars, but much simpler. Incidentally, this same technology is enabling Herb Waldren to have solar panels reliably installed on his roof (just as UUCSR has on its own roof). In Herb's case, the contractor uses a drone to monitor the progress of the proper placement of the panels.
Marvin Brown witnessed the pioneering art exhibitions in 1966 demonstrating the creativity of the union of art and technology within the performing arts. These were held at the Park Avenue Armory shows organized by Billy Kluwër of Bell Labs and his associates whom he paired from both the art and technology fields.
Allen Schwab helped Verizon in its mammoth task to install FIOS cable technology to replace copper wire technology so that the average subscriber could be provided with far greater bandwidth using electronically controlled light-beams to send signals to the home or business.
Doug Hyer uses a series of financial software tools to help his clients to make effective investment choices. This draws on the tools of databases, spreadsheets, graphic representation, statistics and trends, and measures of strategy effectiveness.
Neil (Doc) Tonnesen is involved with Self-Help as an aspect of medicine, which involves information, education, and coaching tools. As a background activity this year, he is also helping us explore outreach and socializing capabilities of Zoom to make contact and have exchange with other men's groups around the country.
Jerry Jalazo had a career working in the field of financial IT (Information Technology), including applications for investments, wealth management, electronic trading, and actuarial science. Earlier in his career, he worked as an engineer on the Moon Lander project at Grumman.
Bernie is a gracious Zoom host for Men's Group meetings for many Men's Group meetings, alongside Sharyn from our UUCSR staff.
Fabrice Bukebuke, a new member who I have the pleasure to mentor, is reading topics I recommend in the history of technology that overlap with UU history and values. We have great discussions by email. The texts come from such documents as a public interview with UU Buckminster Fuller in 1983 on the subject of Integrity. Bucky's great-great-aunt, Margaret Fuller, who he often cited as an inspiration, was a Unitarian Transcendentalist leader and Dial Magazine editor in Concord, MA around 1840. Fabrice is also reading from draft chapters I wrote on UU leaders and values during the past four years as part of an ongoing book project on Technology and Individuality. One chapter includes Universalist leader and social thinker Clarence Skinner, habitat designer Buckminster Fuller, AI pioneer and psychologist/economist Herbert Simon, world refugee strategist/philanthropist (and Ethical Culture leader) Charles J. Liebman, and science educator/innovator Donald Stotler who used a computer lesson-plan database to create to create an educational community of teachers and students. All of these personalities were involved, directly or indirectly, in building community.
2020 Mens Group Tailgate BBQ
2020 Mens Group Tailgate BBQ