Religious Education (RE) for Children
The Religious Education (RE) Program at the Unitarian Universalist Congregation at Shelter Rock welcomes all children, youth and young adults to a nurturing multigenerational community on Long Island. The RE program is designed for all ages whatever their religious background and questionings. We offer an engaging variety of structured learning experiences appropriate to each child's developmental needs and abilities. The program is grounded in the values represented by the Statement of Principles adopted by the congregations of the Unitarian Universalist Association.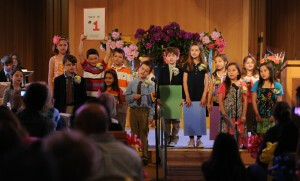 Worship is an important part of the RE Program and is usually held in the Chapel. Once a month, a portion of the Sunday service in the Worship Room is devoted to multigenerational worship. There are three holiday family services during the year when the entire congregation worships together. There are also annual High School, Coming of Age, and end of the year Bridging Celebrations and services.
With the exception of the nursery, the program is carried out almost entirely by volunteers who are directed by professional staff. The program is a cooperative program so there is no fee and families are asked to contribute to the program and the congregation with their time, talent and treasure to the best of their ability. Leadership at the UU Congregation at Shelter Rock hope and trust that visitors will enjoy the community-making, the faith development, the mentoring and the guidance and will choose to become members.