Methodology and Findings — Executive Transitions
Below is a complete summary of our methodology and our findings into executive transitions.
I. Methodology
Veatch commissioned long-time racial justice activist and two-time former Executive Director Rinku Sen to design and conduct a research process consisting of a grantee survey and five focus groups. The team tested the survey with four non-grantees who are Executive Directors and refined it based on their feedback.
Veatch has 190 grantees. We excluded 2 grantee organizations whose specific structure was not relevant to this study. We asked Executive Directors demographic questions and then asked them to reflect on their experiences raising money, maintaining effective boards, and accessing effective technical assistance (TA) during their first two years on the job.
Of the 188 grantees, 116 (62.7 percent) completed the survey. At the end of the survey, we asked for volunteers who were willing to talk further with the research team about their experiences. More than 60 people responded to this request. These high response rates indicate that the question of transition support for new directors, analyzed through a race, gender, and education lens, is of major concern to these organizations. Below are some key profile characteristics of the survey respondents:
Gender:

The majority of survey respondents (67.2%) were cis women (69% PoC; 31% white). Thirty-one men responded (26.7%) (60% PoC; 40% white). There were two trans men (1 Asian and 1 white) and five gender non-conforming people (one Black, three White, one Pacific Islander). Twenty-seven of the 116 respondents identified as LGBTQ (23.3%).

Current role:

Eighty (69%) were Executive Directors, and 15 (13%) were in some form of Co-Directorship. Six were founders (5%).

Nearly 42% were in the first 3 years of their leadership positions: 16% in year 1, 27% in years 2 and 3. Twenty percent of respondents were on the job 3-5 years, and another 20% in years 5-9, while 16% have been in their positions for more than 10 years.
Background:

Close to half of respondents come from immigrant communities, with 24% reporting as first generation, and 22% reporting as second generation.

Work before appointment as executive director:

The largest percentage, 40%, were appointed from within, and another 21% were recommended by a board member or the former ED.

Education:

The vast majority of respondents held a BA (50%) or an MA (31.6%). Nearly eight percent held a high school diploma or GED and nearly 6% held JDs and PhDs respectively.

Region:

Respondents were heavily clustered in the Northeast (37%) and the West (27%), though there were also participants from the Southeast (17%), Midwest (12%), and Southwest (7%).

Previous executive director's current role:

In most cases, the former director has completely moved on (68%) or moved on but shows up when asked for help (22%). A small number were still on staff (8%), or on a board position (2%).



After the survey stage of the project, we conducted five focus groups by Zoom with 23 executive directors who volunteered to talk more about their experiences. Three of the focus groups were demographically specific; two were diverse by race and gender. The focus groups dug deeper into these questions:
What are the factors that made possible the executive directors's successful transition period?

What is the role their boards play in fundraising, what is the role the organizations need from their boards, and how could foundations support more robust board engagement?

What kinds of TA have been most helpful and not?

What would they want funders to know about executive director transitions among social justice directors?
The survey shows that the core of formal leadership in social justice organizations is composed of women, specifically women of color. Of the Veatch grantees who completed the survey 67% are women, 44% women of color. One-quarter of the white women and one-third of the women of color in our sample have been executive directors in their organizations for less than two years, while more male directors have been in the role for longer than that.
II. Key Findings
Funding levels
We asked executive directors what actions their funders took during their first year on the job, allowing multiple responses per person. This is key to our methodology because not all the funders for a specific organization necessarily behave in the same way, and therefore what we are trying to understand is not—only—if an organization's leader experienced a specific reaction from funders, but the extent to which they experienced the different possible reactions from all of their funders, and how does this compare to the transition experience of other directors from different backgrounds. Given that respondents were allowed to select more than one option, the percentage totals do not add 100 in most of the categories.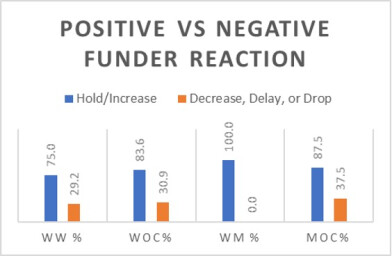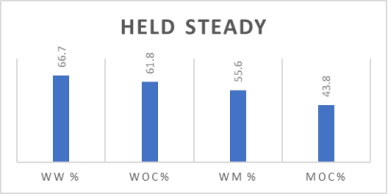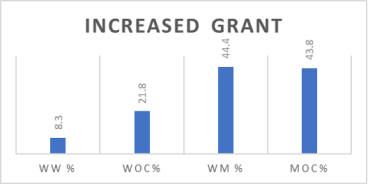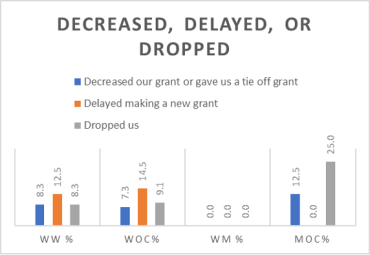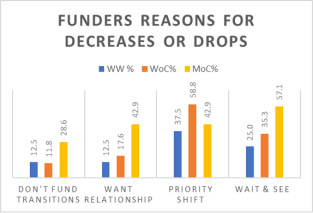 On funders' reactions, from focus groups:
"

Our biggest funder dropped us in my first year and never gave a reason why"

"

As I had to renew grants, some delayed and some did not come through. I think the reasons were different based on the individual funders, but that part of the reason was needing to build a relationship with me."

"They were funding us for [one specific program] and less interested in our [programs serving people of color and trans people]"

"But we don't have the runway, the on ramp and the runway that we need in order to be as effective as we need to be, because [funders'] timeline and priorities don't work with the reality on the ground of when things are happening."
Executive directors of color following long-time white directors can have a particularly hard time with the transfer of funder relationships, in part because of the funders' relationships with their predecessors.
"I don't even want to say that we're headed toward a transition because there are foundations who will say, 'Hey, who knows what's going to happen, who's going to come in there next, and am I going to have a relationship? Am I going to like this person? So I'm going to need some time with whoever succeeds me to transfer those relationships."

"I believe that many funders fund people, not institutions."

"One funder told me she funded people who led organizations and not organizations, that she believed in [my predecessor]"

"What I would ask foundations is to take the leap of faith. If you have believed in the work of this organization, and you want it to continue, believe in the leader in this transition period."
The participants in the focus groups explained that a transition period usually lasts at least two years, and transition money is needed throughout that period.
"Think about transitions, still within a holistic context that whenever the transition happens, it's really about where has the organization been in the last five years, what has it been struggling with."

"It's 18 months to two years before you feel like you have your hands fully around the job and know what you need to be focusing on. And when you're pairing that like learning on the job with a difficult financial situation, it is just incredibly stressful. And so the more that can be done to help provide that transitional funding, that probably lasts a little longer than what most people are thinking"
The effects of funding decreases: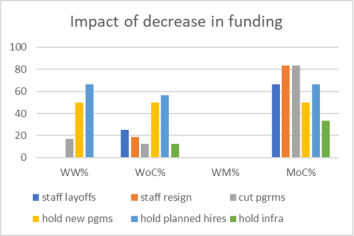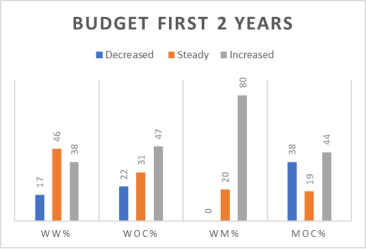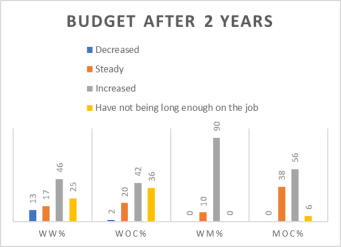 Technical Assistance
Mentors and peers are a critical source of support, especially for women directors. This was the most frequent response to the question of which factors, internal or external, fed the directors successful transition. People found these supports through various means. Often a group of directors in their city or region will create an informal group that gets together and shares experiences, advice, templates, and sympathy. In other cases, a local foundation supports a cohort with convening and facilitation money, enabling leaders to get together. Many people participate in both general and identity specific cohorts. These peers and mentors play invaluable roles in helping transitioning directors work out the vagaries of non-profit systems, learn about resources, compare notes on consultants and most importantly, develop and maintain the emotional endurance and maturity to do the work well.
On mentoring and peer learning, from focus groups:
"I also was really lucky to just have a really good mentor from the beginning."
"I didn't want to get help and have it somehow [reflect on my performance that I needed it]. I still do overcompensate for that, until a board member sat me down, and he said to me, 'cut back, you're working too hard, you're not going to be able to keep this up, and you're raising our expectations way too high, start [messing] up a little more, and it's going to be okay."
"Once a month, there's a group, if you want to vent, you can just vent and people will just be sympathetic, they say, 'we're not going to give you advice unless you want it.' Wherever you can, find that kind of a group."
"There's no oversight day to day. And, it's just helpful to know someone's going to ask me if I had that tough conversation if I've moved that staff situation forward, if I, you know, approach the board or a donor with a difficult thing. And I found that to be really, really helpful."
On in-kind technical assistance and coaching, from focus groups:
Flexible in-kind technical assistance: The most frequently cited cause of unhelpful technical assistance or coaching was a mismatch between the executive directors's organizational needs and the provider's scope of work. Respondents appreciated having a pool of providers to choose from, noting that the preparation for a TA or coaching contract was itself a barrier. Drafting the scope and finding and vetting appropriate consultants are all elements that directors could likely use some help on. They like foundations to supply multiple possible providers from whom they can choose the best fit.
"For me learning all the things I didn't know, I had never done fundraising, you know, I had never really had to deal with the fiscal management. I had never managed anybody"
"They'll provide lists of potential consultants that have worked for their other grantees. And let you scope them out, but they don't say you have to choose from this list. They are going to want to know who we are proposing to use for a particular purpose, but we developed the scope and contract and they made the grant."
Coaching: The whole leadership team of an organization in transition requires support, so that everyone responsible for new structures, policies, and norms has help for change management.
"I'm trying to get a bunch of our staff that are on my management team to get a lot more training. And I think support for coaching and training is really, really, really important. I would have made a lot fewer mistakes if I had done more [leadership development programs]. Or at least made higher level mistakes."
On technical assistance, from focus groups: Technical assistance on specific aspects of organizational management have been critical. The first step is often an assessment of the executive directors's existing skills and knowledge base, followed by specific, targeted resources. Participants most frequently mentioned finance, supervision, and fundraising as key TA needs. Not all directors have had experience of non-profit management. People moving from the labor movement to community organizing, for example, will not know the foundation world or private philanthropy since union organizations are almost entirely funded by dues. Many directors who have been internally promoted have little finance experience, especially if their prior jobs were in program.
"Within four to six months, I knew where I had weaknesses. Okay, it was then like finding the resources to get training for that. And the truth was, I had more than one. And so I couldn't, I'm just being honest here, couldn't get all the training, couldn't get all the training at one time."
"The most pivotal thing that happened was that we had access to a funder that was providing capacity building support, and what that looked like was $100,000 a year for a committed period of time. It started off as five years, but ended up going longer than that. And those dollars were completely unrestricted to be used for capacity building in whatever way, and then they layered consulting on top of that. And that was also completely paid for. And so each year, we could identify an area of organizational development that we needed help with.
On Staffing: Executive directors needed the most help learning how to supervise, managing change efforts such as restructuring to create as little disruption as possible, and finding good staff who could understand the purpose and culture of the organization. Veatch grantee directors feel they have a mandate for hiring, promoting, or appointing from within, so the most important processes include training, coaching, and assessment of skills and attitudes.
"If you're coming in as an executive director, you have your vision of how it's going to go, it's probably going to define it different. It might not be hugely different, but it may be different from whatever happened before and the predecessor, and do you have the policies and the structures in place that actually support that."
"They should also understand that a new ED will be tested. People will push internally, they're going to test your power, your diligence, etc, to see how far they can go. And so there's a lot of power dynamics that happen internally within an organization from the board down too. The organizer or your administrative assistant or anyone, they push to just see what you're made of."
"You have to have the right staff leading, you have to have an equity framework, hire as many PoC folks create leadership opportunities and on ramps and you know, long runways, you have to have folks that are also working on the infrastructure of the organization, because you have to think about long term sustainability."
"We offered executive coaching to our senior staff as well as we were kind of redesigning some things within the organization."
TO RETURN TO THE "EXECUTIVE TRANSITIONS" MAIN PAGE,
CLICK HERE.