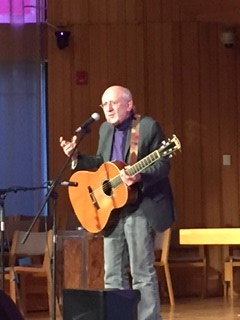 12.04.16

|

Stories

| by

Jim Smith
The event drew about 300 people with proceeds above costs donated to the Leukemia & Lymphoma Society in the name of Mary Travers, who died in 2009. His guitar-plucking right hand sometimes shakes, and he forgets his lyrics at times or asks the audience to cover for him — but his crusading spirit still burns brightly.
Yarrow told the audience that he first heard legendary folk singer Pete Seeger, who died in 2014, at a Unitarian church in New Jersey and recognized Shelter Rock, which paid for publication of the Pentagon Papers in 1971 and is known for its nationwide philanthropic Veatch Program. "Give me a break; you've got a great history here," Yarrow said between numbers. "Thank you for being who you are…You [as a denomination] gave refuge to Pete Seeger in the blacklist period." He said he hopes UUCSR will be "a center where people will listen to opposing points of view."
In a 65-minute first set, Yarrow touched on various social justice themes: peace, racism, bullying, income inequality. "Our job is the assertion of who we are and what we believe in," he said. His new song "The Children Are Listening," written after the Nov. 8 presidential election, includes the lines:
The children are listening,
The children are listening.
We say something cruel and harsh,
They'll do the same…
If they grow up to be bullies,
We'll have ourselves to blame.
He called Shelter Rock singing group Willow, which had opened the program with five songs, to join him onstage for "Lift Us Up," his new song which says:
Lift us up,
Make our stand.
Let love triumph
In our land.
Lift us up,
Make us strong.
Give us courage
To right the wrong.
"This is a musical expression of my thesis," Yarrow said. "We must be engaged in who we are and what we stand for." He followed with a rendition of "If I Had a Hammer," singing, "I still have a hammer, and I've still got a bell. And I've still got a song to sing all over this land." The theme, of course, is "the love between my brothers and my sisters all over this world." He added, "These are not empty thoughts. These are not hypotheticals." His message was that music, love and brotherhood make the world a better place.
Yarrow lightened the mood with a song he said he said he wrote for a CVS ad campaign for Colon Cancer Awareness Month. It includes the line, "Do we all look the same when the doctor sees us from behind." He said after original PP&M group member Paul Stookey heard the song, he sent Yarrow an email saying, "I laughed, I cried, and then I made an appointment."
For his first set-ending "Puff the Magic Dragon," Yarrow called children and adults onstage to sing with him, saying, "Puff is not about marijuana. In 1959, when the song was written [with co-writer Lenny Lipton] when I was a sophomore at Cornell, there was no grass…so I am not responsible for your criminal behavior."
Yarrow began his second set by announcing that an order had been issued [by the U.S. Army Corps of Engineers] to halt work on the pipeline in southern North Dakota that has drawn thousands of protestors to Indian land. He said he and his daughter Bethany have visited the site; he appeared at an August 2015 concert there. Yarrow then changed the lyrics to the song "This Land is Your Land" to include the phrase "no pipelines."
Yarrow sang Travers' iconic "Leaving on a Jet Plane," and said of her, "She insisted on directness and honesty in our trio. And that was why we didn't break up, as most groups did…and we were able to stay together almost 50 years. Next, Yarrow sang, "Don't Laugh at Me," which he dedicated to all those who are "different" in America, saying it had helped launch his anti-bullying nonprofit Operation Respect, which he founded in 1999. He said its curricula, which celebrates diversity and conflict resolution, now is used in 22,000 U.S. schools. The song includes the lines:
Don't laugh at me,
Don't call me names.
Don't get your pleasure
In my pain…
Don't laugh at me…
In God's eyes we're all the same.
Someday we'll all have perfect wings.
He finished the concert with a medley of PP&M hits, including "Don't Let the Lights Go Out," "The Great Mandela," "Blowin' in the Wind," "We Shall Overcome," and a reprise of "If I had a Hammer."
The only negative thought I had after the concert was this: Will we ever realize the world that Peter, Paul and Mary envisioned when they performed during a civil rights march before 250,000 at our nation's capital in 1963?
(The concert was made possible through the work of congregants Ruth Weiss, whose idea it was; Sandra Frank, who chaired the planning group, and staffer Sharyn Esposito, aided by Carla Drezner, Patti Paris and myself. It was publicized by our consultants Austin & Williams.)